Year 2021
2022.2.15
Kobe Seminar 2022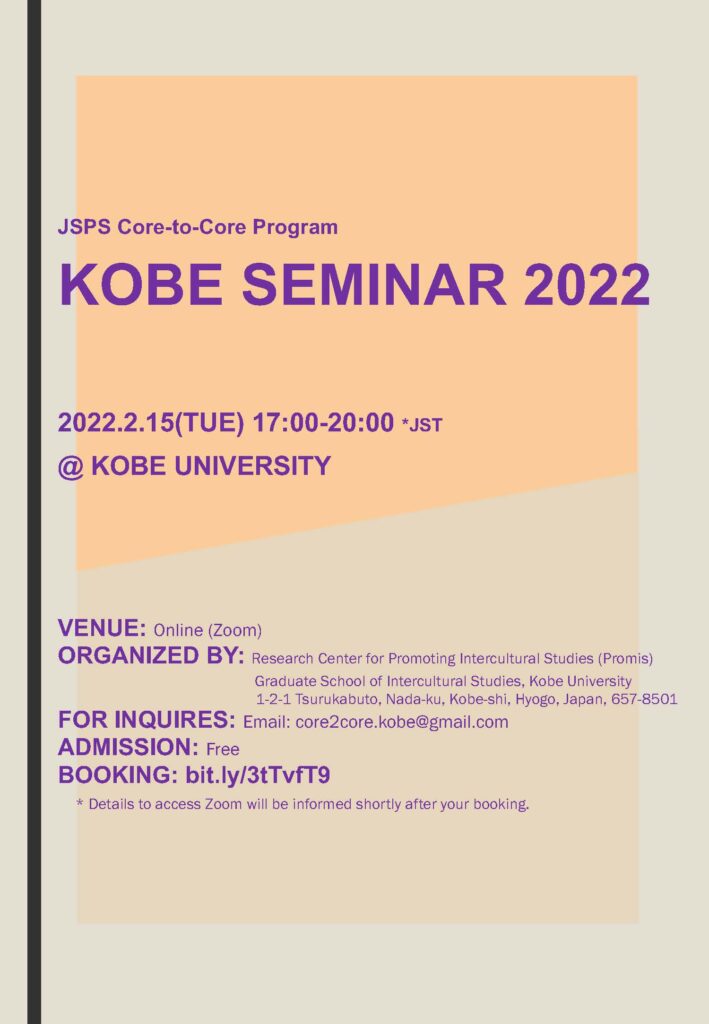 Year 2020
2021.2.16
Kobe Workshop 2021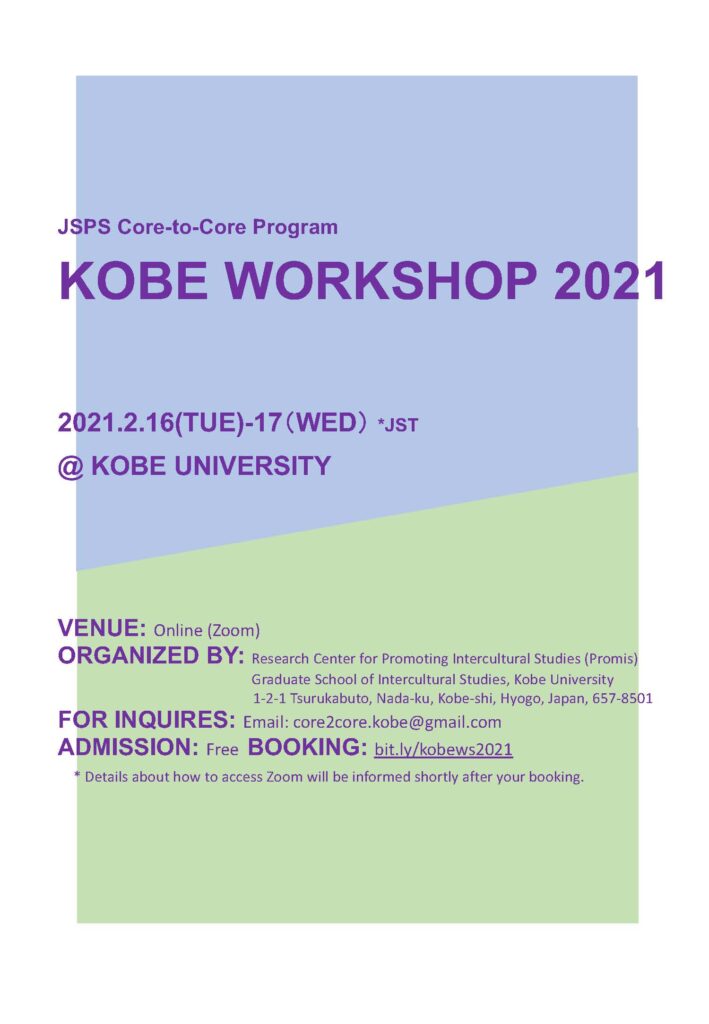 Year 2019
2020.2.13
Kobe Seminar 2020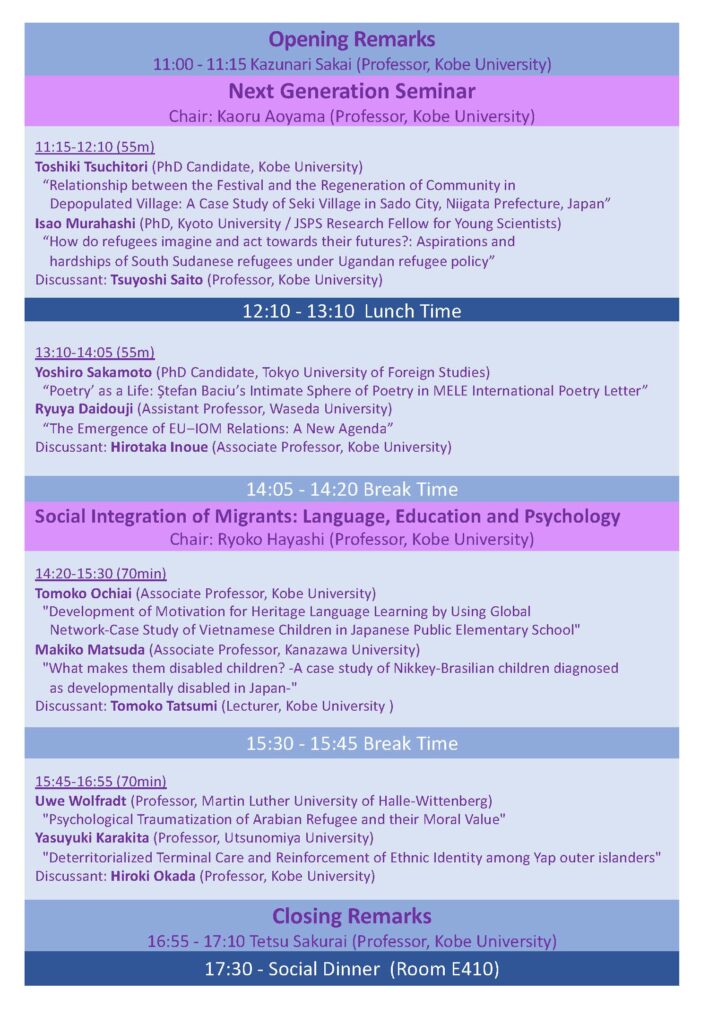 2019.9.18-19
Naples Seminar 2019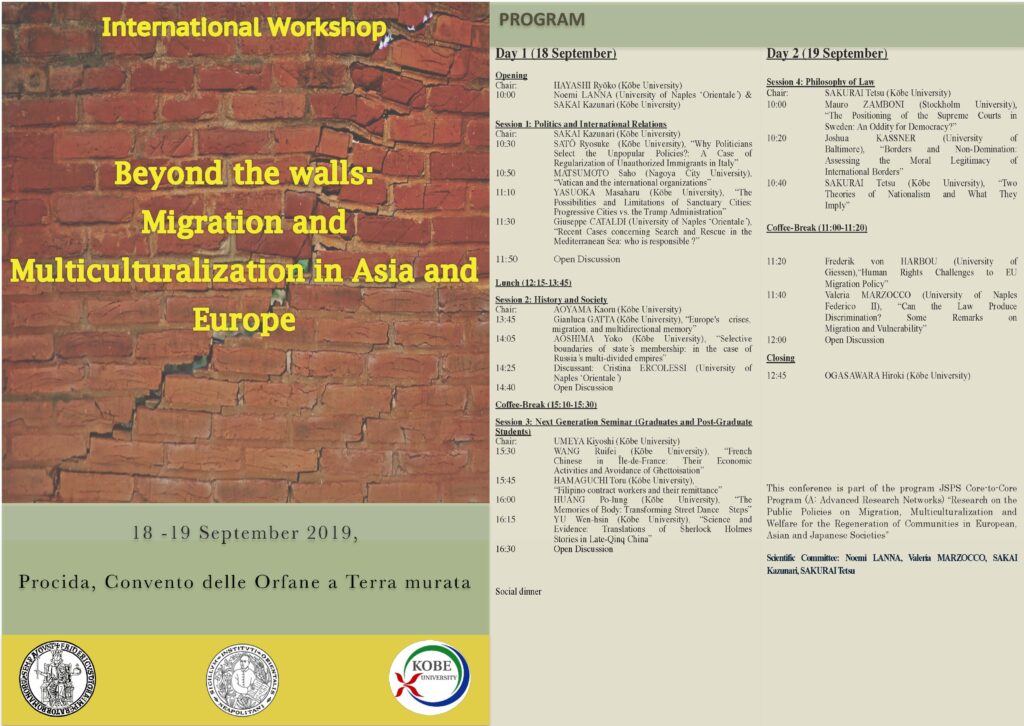 Year 2018
2019.2.13-14
Kobe Seminar 2019
Year 2017
2018.2.8
Kobe Seminar 2018
2017.9.20-21
Naples Seminar 2017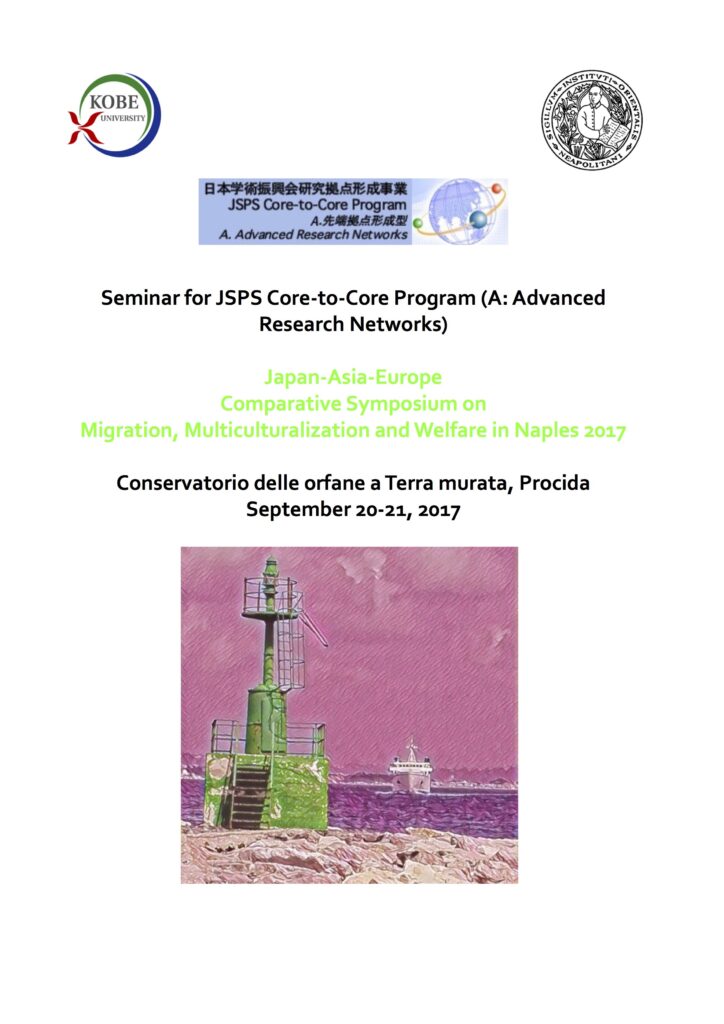 Program
Wednesday, September 20
10:30 Introduction: Noemi Lanna and Kazunari Sakai
Language and Education Session
Chair: Ryōko Hayashi (Kōbe University).
11:00 Makiko Matsuda (Kanazawa University): Migration and Identity among Japanese-Brazilian Return Migrants.
11:20 Tomoko Ochiai (Kōbe University): The transmission of language in the linguistic education of Vietnamese residents in Japan.
11:40 Hiroki Okada (Kōbe University): Hovering between "multi-cultural symbiosis" policy and hate- speech: problem on reconstruction of Korean ethnic-identity in Japan
12:00 Discussant: (tbc)
12:20 Discussion
Lunch(12:30-14:30)
International Relations Session
Chair: Kazunari Sakai
14:30 Haruko Hosoda (Nihon University): Migrants, security issues and human rights in Spain.
14:50 Cristina Ercolessi (Unior): Africa to Europe migration and EU policies.
15:10 Daniela Pioppi (Unior): Superflous generation? Youth and Employment in the South East Mediterranean.
15:30 Kiyoshi Umeya (Kōbe University): Voting, Citizenship and Ethnicity: A Case of Ugandan General Election, 2016.
15:50 Discussant: Giuseppe Cataldi(Unior).
16:10 Discussion
Social dinner
Thursday, September 21
Next Generation Seminar (Graduates and post-graduate students)
Chair: Kazuo Fujino (Kōbe University).
9:30 Shinnosuke Matsui (Kōbe University): After "immigrants": the Armenian diaspora in Europe and their presence.
9:50 Erina Kimura (Kōbe University, Unior): Japanese cultural diplomacy and cultural exchanges policies.
10:10 Chikako Hirano (Kōbe University): Continuity of Mobility: Selling Canvas among Aborigines in Central Desert of Australia.
10:30 Ayane Kimura (Kōbe University): Forcible removal of indigenous peoples by colonial powers and strategies for land rights - Case studies of "Stolen Generation" Australian Aborigines and forcibly resettled North American Navajo.
10:50 Sachie Kiyokawa: Whose Lady is she? Representations of Guinevere and Other Arthurian Characters in Recent Films.
Coffee-break (11:10-11:30)
Social Research and Cultural Studies Session
Chair: Vladimir Kreck (Kōbe University).
11:30 Christian Oberlaender (Martin-Luther-Universität Halle-Wittenberg): Analyzing the discourse on migration: A new tool for following and visualizing public debates.
11:50 Monica Massari (Federico II University): Discrimination against Muslims in Europe before and after Charlie Hébdo.
12:10 Gianluca Gatta (Archive of migrant memories – AMM): From trace to voice: an experience of self-narration and interaction around migrants' objects in Italy.
12:30 Hélène Le Bail (Sciences Po Paris - Centre de recherches internationales and Centre national de la recherche scientifique): How Chinese migrant sex workers in France challenged the representations of human trafficking and sexual exploitation.
12:50 Discussant: Aoyama Kaoru (Kōbe University).
13:10 Discussion
Conclusion
13:20 Hiroki Ogasawara (Kōbe University).
Scientific Committee: Ryōko Hayashi, Noemi Lanna, Kazunari Sakai
Year 2016
2017.3.17
Kobe Seminar 2017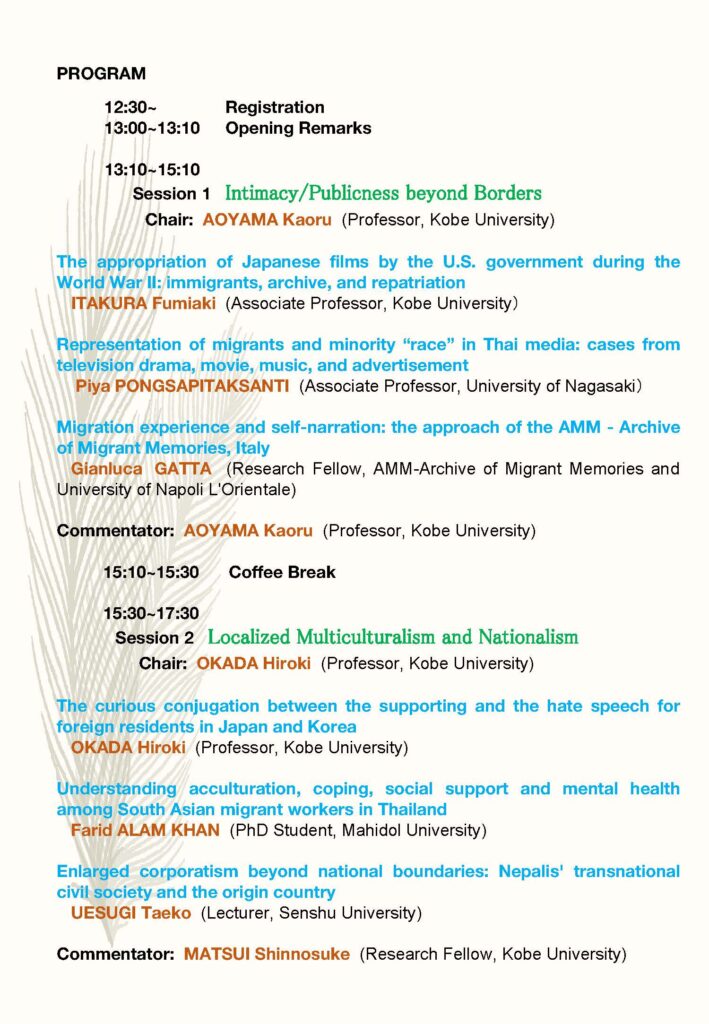 2017.2.6-7
Naples Seminar
2016.10.22-23
Kick-Off Symposium
2016.10.21
Next-Generation Seminar